Siblings Marilisa and Walter Allegrini founded Poggio al Tesoro in Bolgheri 2001. They were drawn by the natural beauty of the region, as well as Bolgheri's increasing potential to deliver world class wines.
OVERVIEW
Poggio al Tesoro works in the tradition of the DOC, crafting Bordeaux-style blends from international varieties and whites from Vermentino. The estate comprises just over 70 hectares in four vineyards within the Bolgheri DOC and the broader Maremma (the name for the Tuscan coast).

Sadly, Walter Allegrini passed away in 2003, leaving his sister Marilisa as the sole proprietor of the estate. Since then, she has dedicated a bottling of 100 percent Cabernet Franc to his memory. "Dedicato a Walter" is the top expression of the estate.


HISTORY
Bolgheri is a postage stamp of an appellation on the Tuscan coast, roughly the same size as the Stag's Leap district in Napa Valley. Yet, it's home to the most sought-after wines in Italy.

Much of the credit for this can be attributed to the rebellion and greatness of Giacomo Tachis' 1968 masterpiece, Sassicaia. This was Italy's first true Super Tuscan, a blend of international varieties aged in barriques - at the time, a revolutionary act on Italian soil. Its impact was enormous and immediate, and though he would go on to make other great Super Tuscan wines in Chianti Classico (Tignanello, Solaia) and Montalcino (Solengo), Bolgheri alone remains synonymous with Super Tuscans.

It was there that in 2001 Marilisa and Walter Allegrini started their first winery outside of Valpolicella. The "dream of Bolgheri," as they called it, a place by the sea, with the kind of soil and sun and breeze that could make wines to rival the best of Bordeaux. Over time, they acquired 70 hectares and called their new estate Poggio al Tesoro, (meaning "hill of treasure") and their flagship wine Sondraia (meaning "place by the sea"). It was, and remains, a powerful, ample, and savory blend in the Super Tuscan tradition.

If Marilisa was the project's visionary, Walter was its grit. The oldest of Giovanni Allegrini's three children, he brought Allegrini's winery in Valpolicella back from the brink after their father died, rallying his family to save the business. He inspired others not through charisma, but unmatched work ethic. Like his father, Walter was a relentless and obsessive farmer. He believed strongly in Bolgheri and its potential (he was, of course, right, as anyone who invests in wine can attest) and he committed himself to the land.

Tragically, in 2003, Walter died of a heart attack while swimming off the coast of Elba. It was the first vacation he had taken since he started working the vineyards of Bolgheri more than two years earlier. It was a devastating loss. Twenty years earlier, Walter had implored his siblings to "fight like lions" and to keep the Allegrini winery that bore their name after their father's unexpected death. This time, Marilisa was left to do it again, now without her beloved brother, to save their shared dream of Bolgheri.

In memory of Walter, Marilisa produces a wine of 100 percent Cabernet Franc (Walter's favorite grape) called simply: Dedicato a Walter. It is the top expression of the estate, and a dedication to the most dedicated.
"It's exciting to be part of what my family has done for so long, and Bolgheri really is so beautiful, it's easy to understand why winemakers, and poets, have fallen for it."
 - Caterina Mastella Allegrini
ESTATE & LOCATION
Region: Bolgheri
Founded: 2001
Proprietor: Marilisa Allegrini
Winemaker: Luca d'Attoma
Vineyards: Bolgheri DOC & Maremma 70ha
Environmental: Practicing Organic
Bolgheri is located on the Tuscan coast, between the Tyrrhenian Sea and the Colline Metallifere ('metal-bearing hills') in central-western Tuscany. The hills provide a rain shadow to the east and the sea provides cooling breezes from the west. The soil is broadly categorized as alluvial, but this masks a surprising amount of soil diversity in the region, including sand, gravel, calcareous, and iron-rich clay soils. It is similar to Bordeaux in soil and maritime influence, but the key difference is warmth; Bolgheri enjoys an average temperature that's five degrees higher than Bordeaux and with a third less rain.


Poggio al Tesoro has four vineyards across Bolgheri, with the largest being Le Sondraie at 50 ha. Its diverse soil is planted to a myriad of grape varieties. The other three vineyards are smaller and rockier, focused primarily on Cabernet Sauvignon and Cabernet Franc.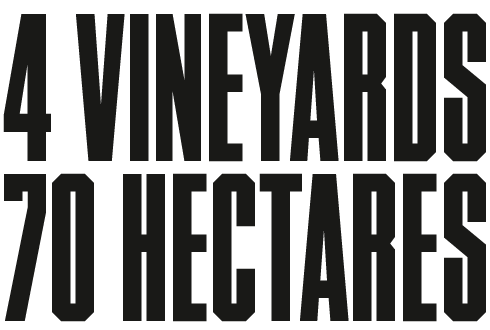 PHILOSOPHY
According to Marilisa Allegrini, "We held dear to what has always defined and inspired us as winemakers: a quest for uniqueness. And we found this uniqueness in four parcels of land that are typical of the area but which, together, express and reveal its singular nature, becoming an original 'exemplification' of the same great terroir."

One of the first tasks undertaken at Poggio al Tesoro was a study of the estate's soil types and microclimates so they could plant grape varieties that would thrive in specific conditions In recent vintages. Marilisa and her team thus have sought to bring out more of that depth of terroir organic practices throughout the entirety of the estate.
IMPORTED PORTFOLIO OVERVIEW
Maze Row imports several wines from Poggio al Tesoro, including their most emblematic expression of the Bolgheri DOC, Sondraia, as well as their small- production, single-vineyard bottling of 100% Cabernet Franc, Dedicato a Walter.
Bolgheri Superiore DOC 'Sondraia'
Bolgheri Superiore DOC 'Dedicato a Walter'
Toscana IGT Vermentino 'Solosole'