The Allegrini family dates back six generations in the region of Valpolicella, but the modern estate was established by Giovanni Allegrini in the early 1960's. He birthed Allegrini's focus on high-quality cru wines, purchasing and replanting the La Grola, La Poja and Palazzo della Torre vineyards just before his death in 1983.
IMPORTED PORTFOLIO OVERVIEW
The winery was carried on by his three children, Walter (deceased), Marilisa, and Franco. Marilisa is the current CEO, while Franco is lead viticulturist and winemaker.

Today, the Allegrini family farms over 120 hectares across the Valpolicella Classico region, with all the wine estate grown. Their winery is in the subzone of Fumane where they maintain operations as well as provide hospitality through the historic, Renaissance-era Villa della Torre. However, their most famous single-vineyard wines, La Grola and La Poja, are in Sant'Ambrogio, the western-most subzone of Valpolicella Classico.


HISTORY
A downward red triangle, framed against a black background: this is Allegrini's calling card image, affixed to every bottle of their Amarone since the seventies. It is simple, elegant, and recognizable.

If you drink Amarone, one need only see that red triangle to know what it references. It is great branding, but it wasn't developed by a marketing agency. Rather, as the story goes, Giovanni Allegrini designed the label himself as a nod to the packaging of his favorite brand of cigarettes.

And that was Giovanni Allegrini - not a celebrity winemaker in a Hermes scarf, but a farmer who couldn't stay out of the fields. He was a blue-collar visionary who believed so deeply in the importance of great vineyard sites, he nearly bankrupted his family when he purchased the crus of La Grola and Palazzo della Torre in the late 1970s.

Locally, they called him the barrel spider: short in stature, but coiled, powerful and athletic. He would hop from cask to cask pulling tastes of wines for guests. Humble, hospitable, and devoted to the land, he passed away in 1983 before he could even see the first vintages bottled from his famed La Grola vineyard. It was a life cut unexpectedly short, and his uncompromising vision then left to his three children, Walter, Marilisa, and Franco. They were not ready.

The true story of Allegrini isn't the genteel narrative of a successful business bestowed upon well-apprenticed children. The siblings were left with world-class vineyards, yes, but also significant debt and a near-impossible standard to uphold. Add to it: Valpolicella was in a stretch of four bad vintages in eight years, the worst in the region's recorded history. The modern winery was forged through trial, not transition. As Marilisa told Wine Spectator in 2017: "We were desperate, because we were young and we didn't have the business in our grasp. I remember Walter said: 'We have to fight like lions for the company to survive'."

Marilisa, the second and most charismatic of the three children, quit her job as a physical therapist and made for the US. She would spend two months in New York, Boston and Chicago, selling just enough wine (and learning just enough English) to get the family through their first vintage without their father. More importantly, she listened. What she discovered on that trip first hand was that wines from Valpolicella weren't traveling well: customers in the US were turned off by the oxidative qualities. In other words, the wines tasted tired. There was a quality control issue, affecting not just Allegrini, but all of Valpolicella. (One has to wonder: would a more assured, less "desperate" winery have picked up on these opportunities?)

Meanwhile, Walter (the agronomist) and Franco (the winemaker) were back in Italy, already interested in making a cleaner and more gastronomic expression of Amarone, which was at the time the region's rising expression. Marilisa's dispatches from the US threw fuel on their proverbial fire, so much so that over the following years Allegrini refined their Amarone through vineyard selection, cellar hygiene and, perhaps most importantly, obsessive control over the appassimento wine production process.

Today, Allegrini represents the ne plus ultra of gastronomic Amarone: clean, structured, bone dry, and balanced. Or, as Franco Allegrini likes to say: "Mai un cadavere in bottiglia (never a dead man in the bottle)."

Giovanni Allegrini could never have known, but this is what Allegrini's red triangle would come to represent: not just a brand, but a benchmark style, built by three siblings with their backs against the wall, and charged with the pressure of legacy.
"...I remember Walter said, "We have to fight like lions for the company to survive.""
ESTATE & LOCATION
Region: Valpolicella Classico
Founded: 1500's
Proprietor: Marilisa & Franco Allegrini
Winemaker: Franco Allegrini
Vineyards: Valpolicella Classico 120 ha
Environmental: Certified Sustainable in the EU
The Valpolicella winegrowing region is located in the Veneto region in Northeast Italy, with temperatures mitigated by nearby Lake Garda (Italy's largest freshwater lake). Its location at the foothills of the Lessini mountains means that cooling influences become more pronounced as you move north and gain elevation. Additionally, at these higher altitudes, the soils turn from clay to calcareous, as ancient seabeds have been revealed by millennia of erosion. Allegrini's primary vineyards range in altitude from 180 to over 500 meters above sea level, and from these plots they bottle powerful and structured expressions of the native grapes of Valpolicella.
Allegrini farms four primary vineyards across two sub zones in Valpolicella Classico, with the famous monopole cru of La Grola in Sant-Ambrogio, and the vineyards of Palazzo della Torre, Fieramonte, and Villa Cavarena in their home town of Fumane.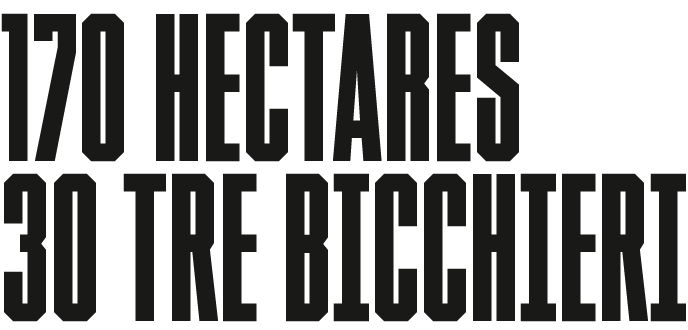 PHILOSOPHY
Allegrini is the benchmark for gastronomic Amarone. There is likely no other producer making a more linear, even mineral expression of the famously rich wine. This is accomplished through high elevation vineyards and fastidious attention to the appassimento process. But Allegrini is more than its Amarone wines. Specifically, they bottle one of Giovanni Allegrini's most inspired visions: a monovarietal, vineyard-appellated Corvina wine that doesn't undergo the appassimento process. A pure expression of terroir, La Poja, was the first of its kind and still one of only a few 100 percent Corvina wines made. They make two additional cru-designate wines with La Grola and Palazzo della Torre, and the top wine of the estate is their Amarone Riserva from their Fieramonte vineyard.

Valpolicella is often known for "technique over terroir," but Allegrini rejects this notion, bringing a clear focus to cru and vineyard-designate wines, brought to life with clean and polished winemaking.
IMPORTED PORTFOLIO OVERVIEW
Maze Row imports several wines from Allegrini, including their benchmark Amarone and the famous IGT wine, Palazzo della Torre.
Amarone della Valpolicella Classico DOCG
Amarone della Valpolicella Classico Riserva DOCG Fieramonte
Lugana DOC Oasi Mantellina
Veneto IGT Palazzo della Torre